Graduate Student Government Association
Our Purpose and Mission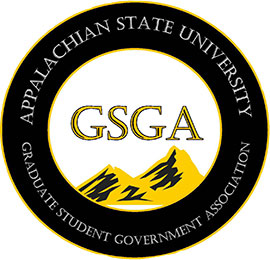 The Graduate Student Government Association (GSGA) of Appalachian State University is a body of appointed senators representing each department within the Graduate School whose goal and mission is to:
Empower graduate students to express their concern for the welfare of the graduate students enrolled in the University.
Provide graduate students the opportunity to develop and disseminate ideas for the improvement of graduate education.
Enable graduate students to contribute to the formation of relevant University Policy.
Support graduate students in the conceptualization of new opportunities for funding initiatives that will improve overall performance in graduate studies.
Grant graduate students opportunities to engage in social and collegiate activities that will strengthen the Appalachian State University experience and identity.
Diversity Statement
The Graduate Student Government Association abides by and supports the App State Diversity statement. GSGA advocates for all of our constituents with respect to individual differences that may include, but are not limited to, age, cultural background, disability, ethnicity, family status, gender identity, immigration status, national origin, race, religion, sex, sexual orientation, socioeconomic status, and veteran status. Our community appreciates that identity is intersectional and that diversity extends beyond this incomplete list of identities. We aim to collectively amplify the voices of, and advocate for, underrepresented groups in higher education so that every graduate student has the full opportunity to thrive at Appalachian State University.
Connect with GSGA
To learn more about the Graduate Student Government Association, including a list of our members and our governing documents, find us in Engage. You can also stay up-to-date by following us on social media.