Apply Now!
Accepting Graduate Applications for 2018: Apply Now!
Preparing to Enter a Global Workforce?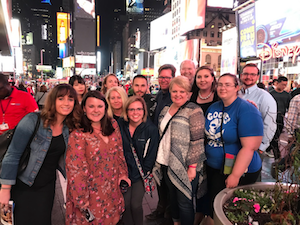 As you prepare to enter the workforce, have you thought about working with people from other countries? Will you supervise someone from another country? Be supervised by someone from abroad? Work alongside those from other places?
Are you prepared to enter such a diverse, global workforce? What do you need to know? What should you expect? Plan to join the Graduate School as we explore these issues and the impact that immigration is having on the American workforce by enrolling in GRD 5530 From Graduate School to the Workforce: Immigration (1 hr). Then join us for a trip to NYC to stay at the ASU loft as we explore these issues on the ground in one of the most diverse cities in America.
Learn more at: https://graduate.appstate.edu/enrolled-students/professional-development/graduate-school-professional-development-seminars
Read about last year's program at: https://graduate.appstate.edu/news/immigration-and-workforce
Why Graduate School?
A graduate degree can:
Help you get that promotion
Help you get that job that requires a graduate degree
Help you be more competitive in the job market
Help you change professions
Help you earn more money and achieve greater job security
Help you pursue a doctoral degree
Help you fulfill your dreams

Why Appalachian?
Everyone who visits the campus of Appalachian State University immediately notices something special about the campus, the students, the faculty, and staff. We have the facilities, resources, and opportunities often associated with larger schools, while maintaining the sense of community usually expected of smaller schools... the best of both worlds! This is a university where graduate students are valued as teachers, scholars, and students, and where everyone is welcomed to be part of the "Appalachian Family." At Appalachian State University, Masters' Matter!
The Cratis D. Williams School of Graduate Studies offers more than 60 graduate degree and certificate programs to help you achieve whatever goals or dreams you have!
Why Now?
Why not?
Apply now!