All graduate students who have graduate assistantships must complete the training once each academic year (August 1 through July 31).
Training Process & Assessment Quiz
Step 1: Read through the materials
Please read through the legal issues minicourse by following the table of contents at the bottom of the page. Once you are finished, follow the assessment link and log in to AsULearn to complete the quiz. You can retake the quiz until you have answered all of the questions correctly.
Step 2: Take the quiz - Go to the assessment for graduate assistantships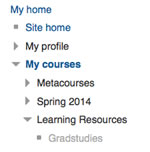 The assessment is a repeatable on-line quiz, and earning a score of 80% or higher will complete the assessment. When you get to the ASULearn log in screen, use your Appalnet username and password to enter. When you are logged in you should see something similar to the menu in the picture. The Learning Resources folder may not be open. If not click on the + to expand that folder. If you do not see the "gradstudies" course in that folder, email Monica Rose (rosemd@appstate.edu).
Training Manual