DEI Connect Conference ~ March 29, 2023
Appalachian State University is pleased to announce DEI Connect, an inaugural research symposium on diversity, equity, and inclusion (DEI). DEI Connect will be held on Wednesday, March 29, 2023, from 9 a.m. to 4 p.m. in Plemmons Student Union on App State's campus in Boone, North Carolina. DEI Connect will include DEI-related research presentations, a skills roundtable, and networking. Registration is free and includes breakfast and lunch for presenters.
9:00-10:00 a.m.: Check-in and Continental Breakfast
10:00-12:00: DEI Summit (poster sessions)
12:00-1:30: Lunch & Networking (for poster and symposium presenters)
1:30-2:30: Skills Roundtable
3:00-5:00: Research Symposium (mini-talks)
DEI Summit
Poster presentations will be integrated into our annual DEI Summit where participants discuss some of the successes and challenges of DEI initiatives on their respective campuses.
Skills Roundtable
The Skills Roundtable will include topics such as wellness, mentoring networks, grant writing, negotiation skills, and alternative careers.
Research Symposium
Mini-talks will consist of 10-minute research talks followed by time for comments and questions from attendees.
Possible Topics for Poster Presentations and Mini-Talks
App State welcomes proposals from graduate students and postdoctoral researchers for poster presentations and mini-talks on any topic that investigates issues related to DEI. Research topics may include, but are not limited to:
Disparities in enrollment and retention rates of underrepresented groups
Identification of high-impact practices in college success for underrepresented groups
Inclusive classroom environments and curricula
Effects of socioeconomic status on academic performance
Underrepresented groups and workforce development
Diverse environments and creativity
Diverse workforce as a competitive advantage for problem solving
Academic discipline research from a DEI lens
How to Submit a Proposal
If you are interested in submitting a proposal for a poster presentation or a mini-talk, submit your current CV along with a 500-word abstract that outlines your original research or project via this link by no later than February 28, 2023 [applications closed on February 28]. We will send additional formatting and presentation guidelines to those people who are selected to present.
How to Register to Attend
All attendees, whether presenters or not, must register to attend. Please submit your registration by no later than Friday, March 10 (registration is now closed)
Questions?
If you have any questions, please contact Dr. Marie Hoepfl, Interim Dean of Graduate Studies in the Cratis D. Williams School of Graduate Studies, at 828.262.2691 or hoepflmc@appstate.edu.
About Appalachian State University
Appalachian State University, in North Carolina's Blue Ridge Mountains, prepares students to lead purposeful lives as global citizens who understand and engage their responsibilities in creating a sustainable future for all. The transformational Appalachian Experience promotes a spirit of inclusion that brings people together in inspiring ways to acquire and create knowledge, grow holistically, act with passion and determination, and embrace diversity and difference. As one of 17 campuses in the University of North Carolina System, App State enrolls more than 20,000 students, has a low student-to-faculty ratio, and offers more than 150 undergraduate and graduate majors.
Appalachian State University is committed to providing an inclusive experience and provides accessible learning environments and equal opportunity to individuals with disabilities in accordance with the Americans with Disabilities Act of 1990, and Section 504 of the Rehabilitation Act of 1973. Individuals needing reasonable accommodations should contact the Office of Disability Resources at 828.262.3056 or odr@appstate.edu.
Diversity Statement
Land Acknowledgement Statement
Mission, Vision, Core Values and Sustainability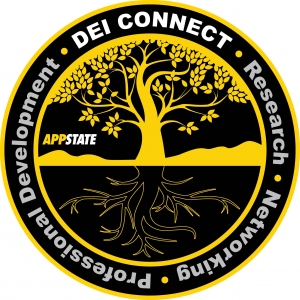 Tags: