President Candidates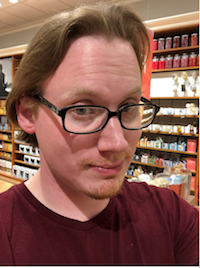 Robert "Robbie" Pope – Candidate for President
My name is Robert L. Pope. My friends call me Robbie. My story is somewhat longer than most in college given that I'm a little older. As I write this to you I am 31 years old. I am studying for my M.A. in Political Science with a concentration in International Relations and Comparative Government.
In April of last year, I ran for Vice President of GSAS (now Graduate SGA) and won. I ran for multiple reasons. The first was to rebrand ourselves and gain our own identity as graduate students. The second, to increase funding for GSGA to allocate more funds to graduate students for research projects. Anyone who knows anything about the grad students at Appalachian State University knows that the most robust research from App State comes from its grad students. We grade papers, assist faculty and staff, and mentor undergraduate students to make the best decisions possible. Our identity is important to this university. With that in mind my other goal was to write a student body constitution for the graduate students and change the format for elections to a student body at large election for the offices of president and vice president.
Finally, I wanted to gain a seat on the Board of Trustees at Appalachian State University. To this date, we in the new Graduate Student Government Association have attained each one. Next year, I hope to have the Graduate Student President sitting with the Undergraduate Student President, representing all students on the board of trustees so that all students have a voice. It has been my honor to represent graduate students as your Vice President, now, I ask for your vote for Graduate Student Body President. To continue the fight for graduate student representation at Appalachian State University!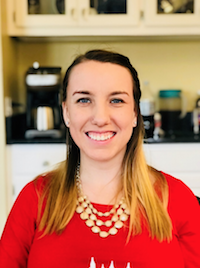 Kathleen Smith – Candidate for President
My name is Kathleen Smith, and I am a graduate student in the Marriage and Family Therapy program. I am excited to be running for GSGA President. In the past, I have had the honor of serving as a leader in both social and academic settings, and feel these positions have prepared me well for the position of President.
My goals for leading as President would include promoting Graduate Students' quality of education and ability to share their voice and innovative ideas in a University setting. Inclusivity is crucial to long-term learning success, and I plan to promote this value through being open to feedback from graduate students across disciplines. In the past, I have found that active listening and creativity are useful leadership tools that improve student success. Finally, a project that I hope to take on is to create open student forums and guest faculty and student panels to talk about student life and promote graduate studies by connecting with undergraduates.
Vice President Candidates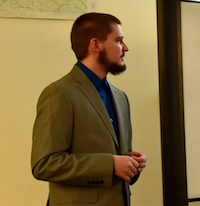 Ian Kirkpatrick – Candidate for Vice President
Ian Kirkpatrick is an Appalachian Studies Masters Candidate expected to graduate in 2019. He received his Bachelor's degree in Political Science and International Studies from Mars Hill University, where he was a regular voting member of SGA. In his time at MHU, he worked closely with the SGA officers to restructure the organization and give students a stronger voice on campus. If elected, Ian promises to collaborate with the GSGA officers on ways to get Graduate students more involved in and aware of campus activities and vocalize student interests to Administration.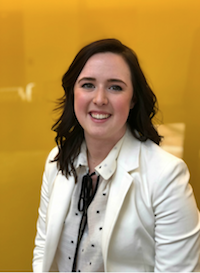 Hunter Adams – Candidate for Vice President
My name is Hunter Adams and I am a Graduate Student studying Marriage and Family Therapy. I am running for Graduate Student Senate Vice- President. I have been able to hold several leadership positions in my past and I believe I have been prepared well for this position. I have worked with a large governing groups making impactful decisions. In past leadership opportunities I have been able to grow my organizational and event planning abilities. Through my experience I was able to learn the structure of the University and the best way to make changes and get noticed. I look forward to being in a leadership position again and helping to improve the graduate student experience here at Appalachian State University.
As graduate students, we have a smaller voice in the University and are often overlooked. I plan on helping to make Graduate Students' voices be heard. In addition, I hope to lend a hand in planning more graduate social events, including tailgates. By bringing us together as a community, we are able to make a bigger impact on the school while we are here.